SEE
COVE ISLAND LIGHTHOUSE
THE GROTTO
THE NIAGARA ESCARPMENT
BIG TUB LIGHTHOUSE
THE ISLANDS OF FATHOM FIVE
Our one-hour stay aboard FUN tour includes some of the most beautiful sites in Tobermory!
Once leaving the dock, passengers will get to see the picture-perfect Big Tub Lighthouse before speeding off toward the pristine islands of Fathom Five National Marine Park. As we tour the channels between the islands, guests will get to see some spectacular caves, untouched shorelines and catch a glimpse of the famous Cove Island Lighthouse!
After that, TOBERMORY FLASH will shoot across the open water where, we then circle famous Flowerpot Island where guests will take in the light station, caves, and the two naturally occurring Flowerpot rock pillars!
After seeing Flowerpot Island we'll head out into open water for some more fun, before arriving at the gorgeous Bruce Peninsula shoreline where you'll be able to take in the astonishing cliffs of the Niagara Escarpment. We'll tour the shore of Bruce Peninsula National Park where you'll see the famous Grotto, as well as some amazing caves, and the Overhanging Point!
As we return to Tobermory guests will be treated to some more amazing scenery before arriving back at our dock in Little Tub Harbour.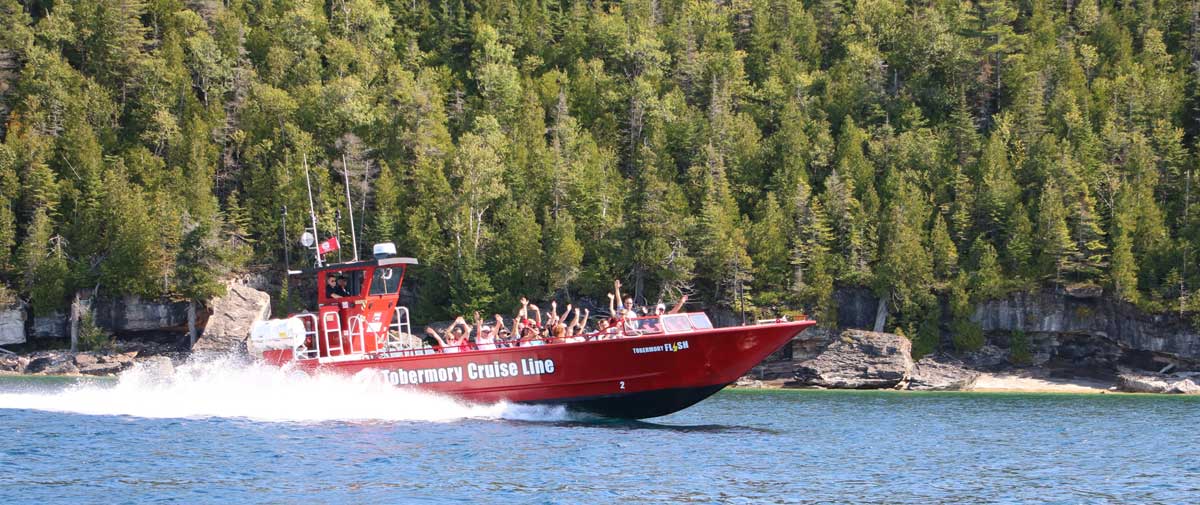 Rates:
Adults (Age 18 to 64) - $39.95 + HST
Youths (Age 4 to 17) - $32.95 + HST
Seniors (Age 65 and over) - $37.95 + HST
Infants (3 and under) - FREE